Connecting shippers, carriers, and drivers to end-users who expect instant deliveries is stressful, particularly for drivers who are the most visible link in the process. Because of this, the mobile app they use to manage their work is a critical component of any Last-Mile delivery management system.
As a business, if you're still using outdated spreadsheets and whiteboards, you will be astounded by the power of delivery dispatch apps and the oversight they provide. 
Strangely, even though it's critical in connecting all parts of the delivery logistics process, giving the app a consistent name remains a challenge. Is it a Delivery app? A Driver app? A Dispatch App? In effect, it's all of these. But because it's the driver who's getting the job done, let's call it just that: The Driver App.
4 PILLARS OF A SUCCESSFUL DRIVER APP
Choosing a dispatch app based solely on a bucket list of features would be a mistake – that's just one aspect. Consider these four pillars that together are your recipe for success:
1. User Experience
2. Productivity
3. Flexibility
4. Functionality
Our expert team of mobile app developers has you covered in all cases.
Here's how the Dispatch Science Driver App stacks up.

1. USER EXPERIENCE
Onboarding
As unbelievable as it may seem, some driver apps cost the driver money to download! Talk about driver retention for a second to any delivery business owner, and you'll know that's a terrible idea. The Dispatch Science Driver App is free to download, and it's a simple process to send an email-based ID and custom password that's easy to change.
The second key aspect of any onboarding experience is a practical and well illustrated User Guide and a quick and easy way to contact Support.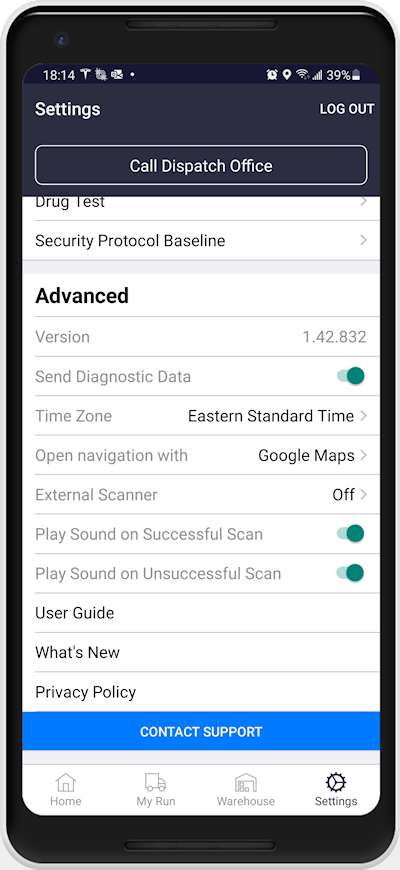 User Interface
Clarity is an essential characteristic of an exemplary mobile design, so we made the Driver App is as clutter-free as possible. We have gone to great lengths to minimize text and simplify icon design. We also limited our choice of colors to actions most critical to the driver. This is particularly true of the Home Page: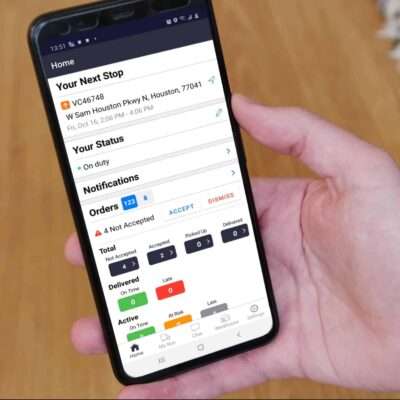 We also added offline operation capabilities to ensure that the driver can continue his run even if he's off the grid.
Ease Of Use
Ease of use is crucial for mobile design, and it needs to meet the design principles of the underlying operating system. Our app is built natively for iOS and Android, so it is intuitive and friendly in both cases. Buttons are clearly labeled with proper attributes, menu categories do not overlap, and it's always easy for users to go back to their previous screen.
Our team takes ease of use very seriously. For instance, they purposely put the critical menu items in the bottom "thumb zone" of the app for easy one-hand usage.
2. PRODUCTIVITY
Optimized stop sequences
For everybody involved in the delivery process, especially drivers, route optimization is undoubtedly the biggest productivity gain modern technology can provide. Fully automated route optimization is built-in to our Driver App. Better yet, the optimizer automatically readjusts the route stop sequence for frequently evolving on-demand orders as new orders are added or cancelled during the day. For planned routes, essential load sequencing information is provided to ensure that items are optimally sorted for loading vehicles first-in, last-out, thereby ensuring drivers don't waste time looking for parcels at each stop.
Easy to follow step-by-step instructions
First, we provide a stop-by-stop map preview of the drivers delivery sequence. We also include full integration with Google Maps, Waze or Apple Maps so that drivers can easily follow traffic-optimized turn by turn directions to the next stop.
Next, we understand that the requirement for custom delivery instructions starts the day a delivery company signs on more than one client. The Driver App must provide easy-to-follow delivery instructions adapted to each situation. That way, there is no time lost going through complex and error-prone lists of instructions to finish the job. The workflow capabilities of the Driver App make it fast and easy for drivers to perform at 100% accuracy when following instructions. Here's just one example of a custom workflow set up to make it easy for the driver to follow assembly instructions: Scan barcode on pickup, confirm no damages, if damages take picture. On delivery, take photo of parcel at the door, specify from list of choices where delivered (front, back, doorman, reception, etc.)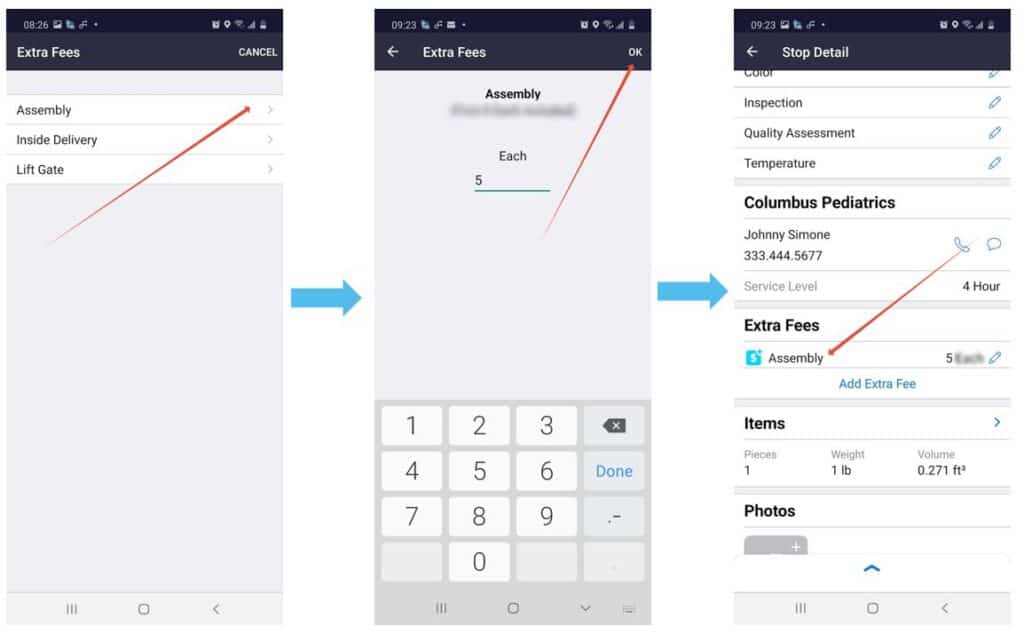 In-App productivity tools
The Driver App includes numerous in-app productivity tools to help get the job done faster. For instance, it provides built-in chat for quick texting between dispatch and drivers. The same tool can also broadcast messages to a group of drivers or all drivers at once. Alerts are sent to the phone when new messages are delivered.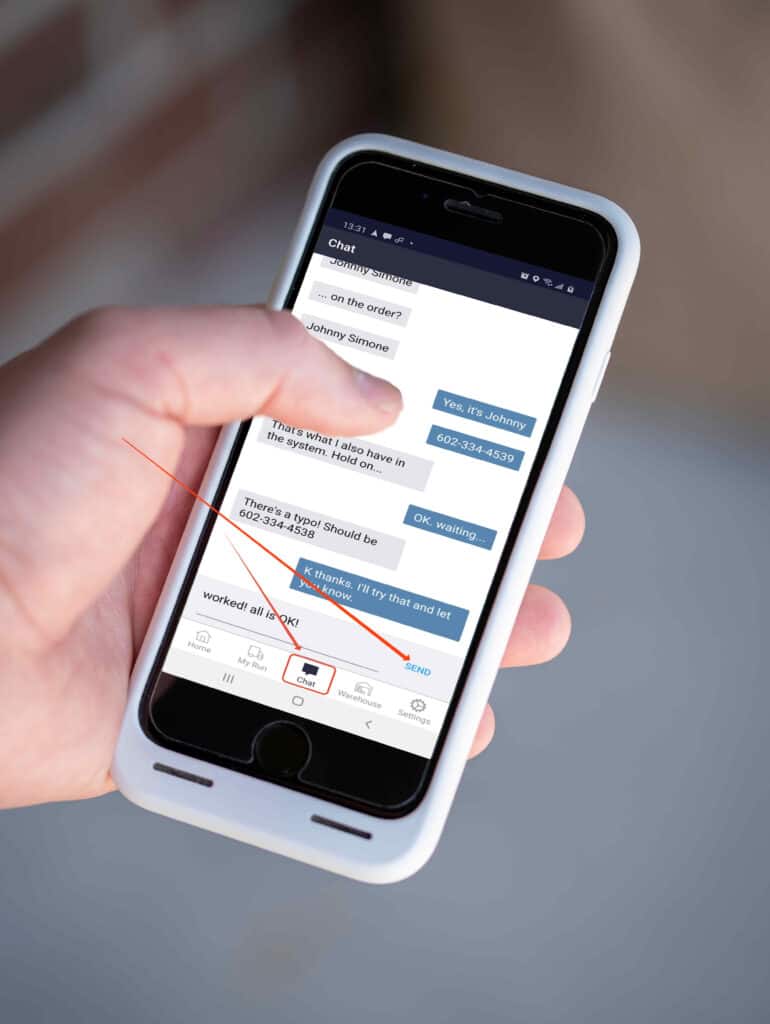 The app also includes a handy in-app barcode scanner so that the driver does not need to carry around a separate device to scan labels on his packages. Even then, if a commercial barcode scanner is needed for large volume scanning, we provide Bluetooth integration and connectivity to help get the job done even faster.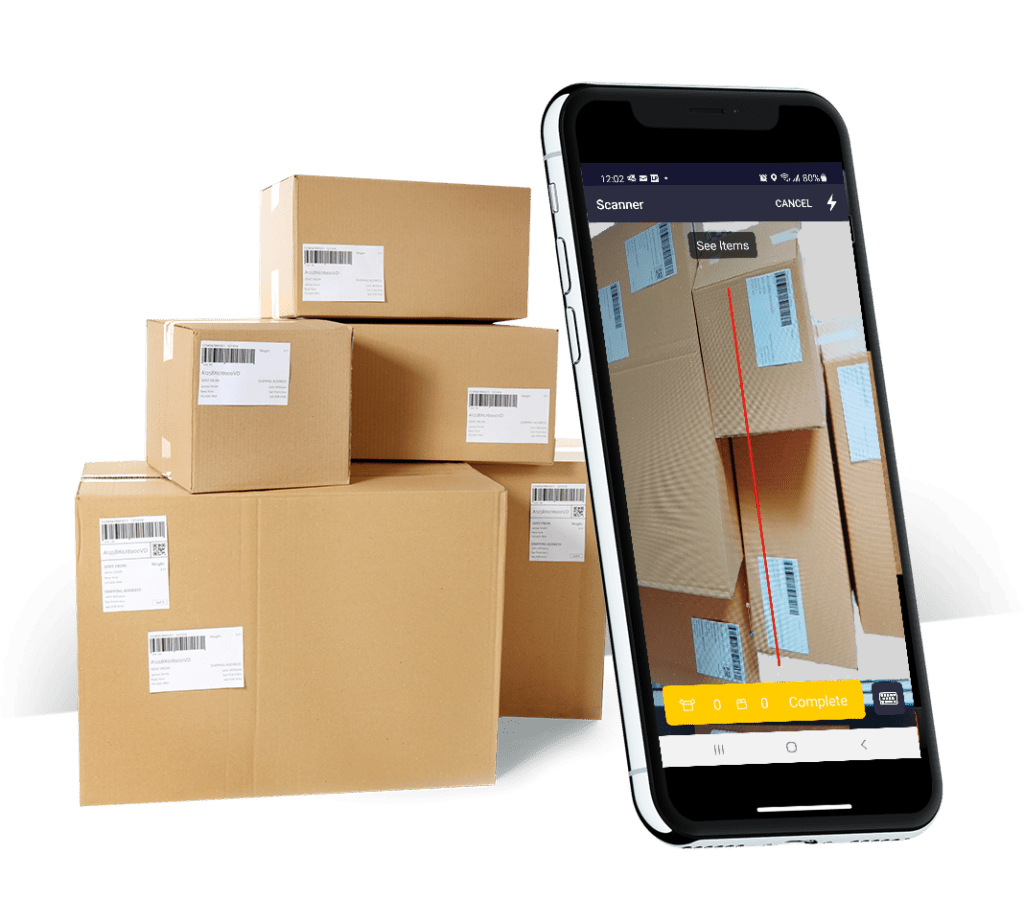 3. FLEXIBILITY
Driver Access Controls and Compliance Management
A happy, productive driver is a driver who receives the instructions he needs to get the job done right—nothing more, nothing less. Our Driver App management tools include a rich set of access control options. These allow managers to set up different driver profiles aligned with the driver's level of experience, the types of customers he delivers for, and the delivery steps and actions he's expected to perform. Once configured, this exceptional level of flexibility and control dramatically increases driver productivity and eliminates practically all errors.
Administrators can toggle on/off switches to enable or prevent all kinds of actions. Here are just a few:
Show/hide commission earnings

Show/hide account or contact information

Allow/prohibit order transfers to other drivers

Allow/prohibit adding accessorial on-site

Require validation from HQ to finish an action and move on to the next one

Grant or remove capability to accept or refuse orders

Enable/disable chat

Allow/prohibit adding notes to an order

Capability to manage on-off duty time

Rules for adding attachments

Controls for geo-fencing distances

Self-serve profile and vehicle management

Enforce validity of license, insurance, or other documents

and many more
Specifics for independent contractor drivers
We understand that hiring and retaining drivers is an ongoing challenge for delivery companies. That's why we have build some extra tools to keep them engaged and happy. Without leaving the app, they can accept or reject orders, review commissions payment information, even access their settlements.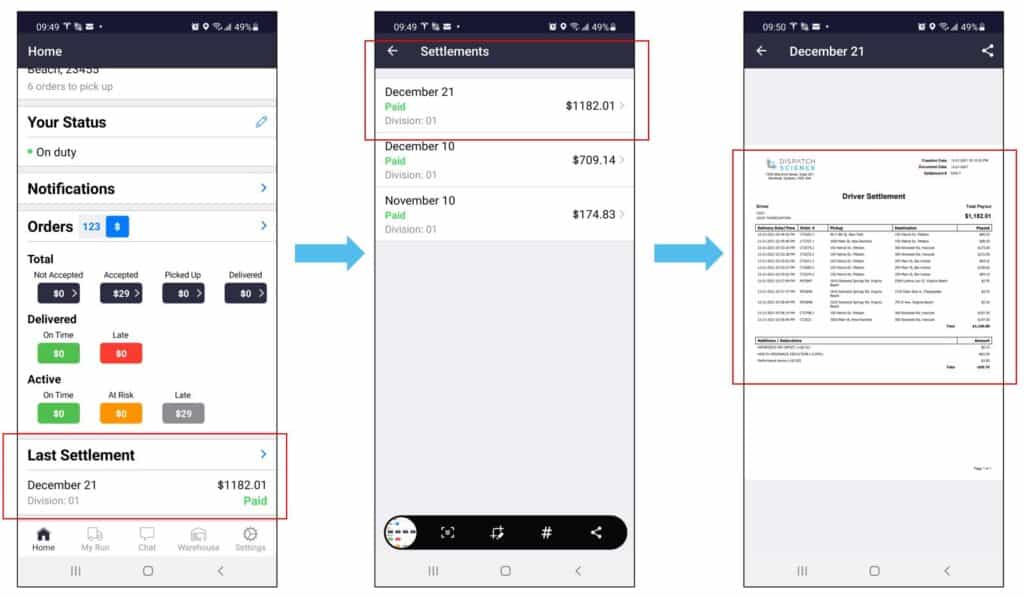 Event-driven real-time alerts and notifications
Because the operational back-end of Dispatch Science interacts in real-time with the Driver App, it's easy to set up event-driven alerts and notifications between the Driver and Ops. This prevents errors and allows remedial measures to be put in place instantly. Geofencing rules can prevent deliveries to the wrong address, at-risk or late deliveries are flagged, and alerts for orders put on hold during the day are instantly shared.
4. FUNCTIONALITY
Now that we've established some critical ingredients of an excellent Driver App, it's time to look at functionality. What capabilities are included in the app, and how do they stack up against the competition?
Our iOS and Android Driver App arguably offer the richest set of capabilities in the business. Check our partial list below, compare it with other dispatch apps, then give us a call (1-844-558-2011) to discuss!
Operate with optimized daily runs:
-Get a snapshot view of your daily orders: accepted, picked-up, delivered,
on time, at-risk, held, or late
-Get Waze, Google, or Apple Map stop by stop directions
-Get optimized parcel loading and stop sequences with map preview of all stops
-Group orders delivered to the same place and dig-in to see details
-Get real-time updates as new dispatch instructions and orders come in
-Review individual order details
-Review notes and attached documents and photos,
and add new notes, documents and photos
-Review delivery runs days in advance
-Get notified when you are running late
Manage your schedule:
-Manage on-off duty status
-Manage away times
-Continue capturing delivery information even when offline
Review payments and commissions
Perform Barcode scanning with the in-app scanner or via Bluetooth for dedicated scanners
Obtain proof of delivery:
-Signatures
-Photos
-ID's
Manage COD's and cash payments
Automaticaly calculate wait times, and edit them in the app
Add extra fees or accessorial charges
Receive time and location warnings:
-When behind schedule, or at a wrong address
-Predictive ETAs and geofencing to validate time/location tracking
Get job documentation:
-Review notes, BOL's and other document attachments
-Add your own attachments and notes
Manage compliance with automated alerts when licenses or credentials are due
Perform Over, Short and Damaged (OS&D) tasks
In-app messaging to chat with dispatch
Quickly perform one-tap phone calls
For managers, control the tasks drivers are allowed to perform:
-Accept or reject jobs
-Transfer orders to other drivers
-Edit existing orders
-Put orders on hold
-Create new orders on-the-fly
-Create returns to merchant or to origin orders
-Manage permits, credentials, vehicle and personal information
FIND OUT HOW THE DRIVER APP

 

CAN TRANSFORM YOUR TRANSPORTATION BUSINESS