If you're a manager, you know that running a delivery business is way more complex than what the general public can imagine.
Sometimes the sheer number of potential errors hidden in just one order boggles the mind:
Were the pick-up and delivery addresses correctly captured?

Does the driver have the correct credentials? Is his license up-to-date?

Did you remember to factor-in wait times at pick-up and delivery locations

Will this order be the one that will overload the delivery truck?

Which is the shortest route to deliver all the packages?

If someone challenges you, how will you prove the delivery occurred?

Are there any attached documents with the order?

Do your clients know what's happening to their parcel, or are they constantly calling for an update?

Do you want to allow your driver to accept tips? COD?
The challenge of modern delivery management is to scale efficiently from a few to thousands of orders per day by leveraging the computational power of the cloud to optimize and automate the delivery process while providing real-time transparency so that nobody is in the dark.
What is Delivery Management?
Delivery management is how you run a profitable business by organizing deliveries to satisfy shippers and their customers. It does this by matching customer delivery requests with the appropriate drivers and their vehicles to complete those requests.
The best delivery management system will optimize your routes and schedules while maximizing efficiency and minimizing unnecessary costs. You can measure these costs in increased productivity and financial savings, increased fuel efficiency, enhanced driver and customer satisfaction, and decreased headaches for yourself!
Why is Delivery Management Important?
Delivery management software is essential because it's essentially the beating heart of every delivery business. To effectively manage any delivery fleet with more than a couple of drivers, you'll need delivery management software.
Here's why:
Same-day delivery is becoming the new norm
Amazon has taught us to expect fast delivery, and companies like Uber showed us that we like to track progress in real-time. And since 88% of consumers are willing to pay for same-day delivery, it's time to jump on this lucrative segment.
Customers have higher expectations
According to a survey conducted by Baymard, 49% of consumers abandon their shopping cart because extra costs like shipping are too high, and 19% do because delivery is too slow. If you're a carrier, you need to help your shipper reduce shopping cart abandonment and increase sales.
Pressure on prices is increasing
At 41% of total supply chain costs, last-mile delivery is the most significant cost driver in the supply chain. However, demand is growing fast, and competitive pressures are so intense that many shippers are willing to subsidize their last-mile. In turn, this means they are putting massive pressure on the carriers to keep their costs down.
Delivery management software can help shippers and carriers keep their last-mile costs down and protect their margins by maximizing fleet capacity and reducing mileage.
Benefits of Efficient Delivery Management
The key benefits of delivery management software are these:
Optimized delivery routes
A modern delivery management platform helps you instantly and automatically generate optimized travel routes.
The software can factor in the number of stops, vehicle capacity, driver availability, and the different delivery time windows promised to customers — factors that would be virtually impossible to optimize manually.
Delivery management software like Dispatch Science will also alert drivers and customers right away by sending notifications to all stakeholders.
Reduced service costs
Effective delivery management software saves money and time by planning routes that are as efficient as possible. That's because optimized routes mean that drivers spend less time on the road, resulting in reduced fuel usage.
For example, with Dispatch Science's powerful auto-dispatch features, delivery managers can set rules to automatically assign deliveries to the correct drivers at the right times. Along with the order, drivers will receive precise step-by-step instructions telling them exactly where to go and when, a visual display of all their stops in an optimized sequence, and any other instructions they'll need along the way.
Increased speed of reaction when problems occur
Optimized routes are going to be completed faster. But what will you do when something unexpected like bad weather or engine breakdown happens on the road?
A delivery management platform will immediately alert your dispatcher about the problem, help him whip up an alternative route, and alert your drivers of any changes in real-time.
For instance, this could mean quickly adjusting a route if a road becomes blocked so that the committed delivery window is still likely to be met.
Increased delivery count
Delivery management software lets you make more deliveries by coming up with optimized routes as efficient as possible without overloading driver vehicles or other constraints.
If your service times are at risk of being impacted, say by weather, delivery management software will notify you of those orders at risk, automatically send warnings to drivers, and provide late delivery predictive ETA alerts to customers.
Improved customer satisfaction
Customers entrust their parcels to you. In return, they will want to know where their deliveries are once they're on the way. It's one of their top demands.
Delivery management software can provide you and your customers with real-time updates on drivers' locations. This means you can quickly check on individual drivers, while customers can get accurate estimated delivery time windows and advance ETA estimates.
For example, any delay on a route will instantly be visible to both your company and the affected customers. The system will automatically adjust all estimated delivery times for every undelivered order on that route. This will help manage customer expectations and reduce the number of call center inquiries.
What to Look for in a Delivery Management System
You'll find plenty of delivery management platforms vying for your attention. Before choosing a solution, here are some of the core capabilities you need to look for in modern delivery management software:
Route optimization
Route optimization is the process of finding the best route for drivers to get a parcel from the transportation hub or warehouse to the end customer as quickly and cost-effectively as possible.
In addition to finding the best route, optimization is about minimizing the total driving and idle times when making any number of stops, factoring in variables such as:
Delivery time windows

Vehicle load capacity

Driver's schedule

Driver proximity and/or hub location

Average Traffic patterns

Load and unload times

How far the different stops are from one another
Planning an optimized route that accounts for all these variables is impossible to do manually because, even if you have just a few delivery vehicles with ten stops each, there can be an almost infinite number of different permutations.
With cloud-based delivery management software, all the permutations are calculated in the cloud in a matter of seconds without bogging down your computers, maximizing the number of deliveries your drivers can make and, therefore, the amount of revenue your business can generate.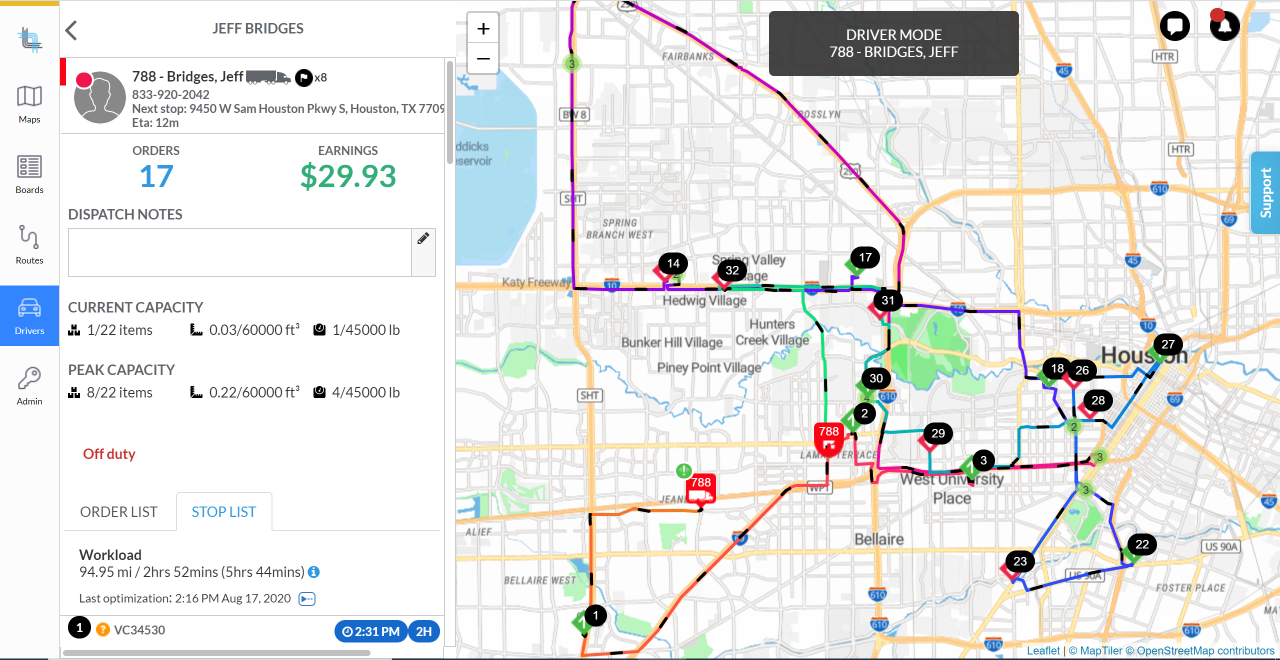 Driver's optimized stop list on map, with real-time view of driver departure point and current location.
Auto-dispatch
Delivery managers can set rules to automatically assign deliveries based on proximity and route distance with delivery management software. With auto-dispatch, the system will automatically send drivers an optimized stop list and a map view of all their sequenced stops along with any other instructions they'll need right on their mobile device.
The Dispatch Science Driver App also allows drivers to collect proof of delivery — photos, signatures, and barcodes — right from their mobile device.
Search and filtering
The delivery management software you use should be user-friendly and let you find the information you need quickly and easily. One thing to look out for is the search and filtering capabilities.
Being able to filter by time, driver, and status will let you focus on what matters most. It should be easy to search these categories to find specific drivers, customers, or pick-up/delivery tasks.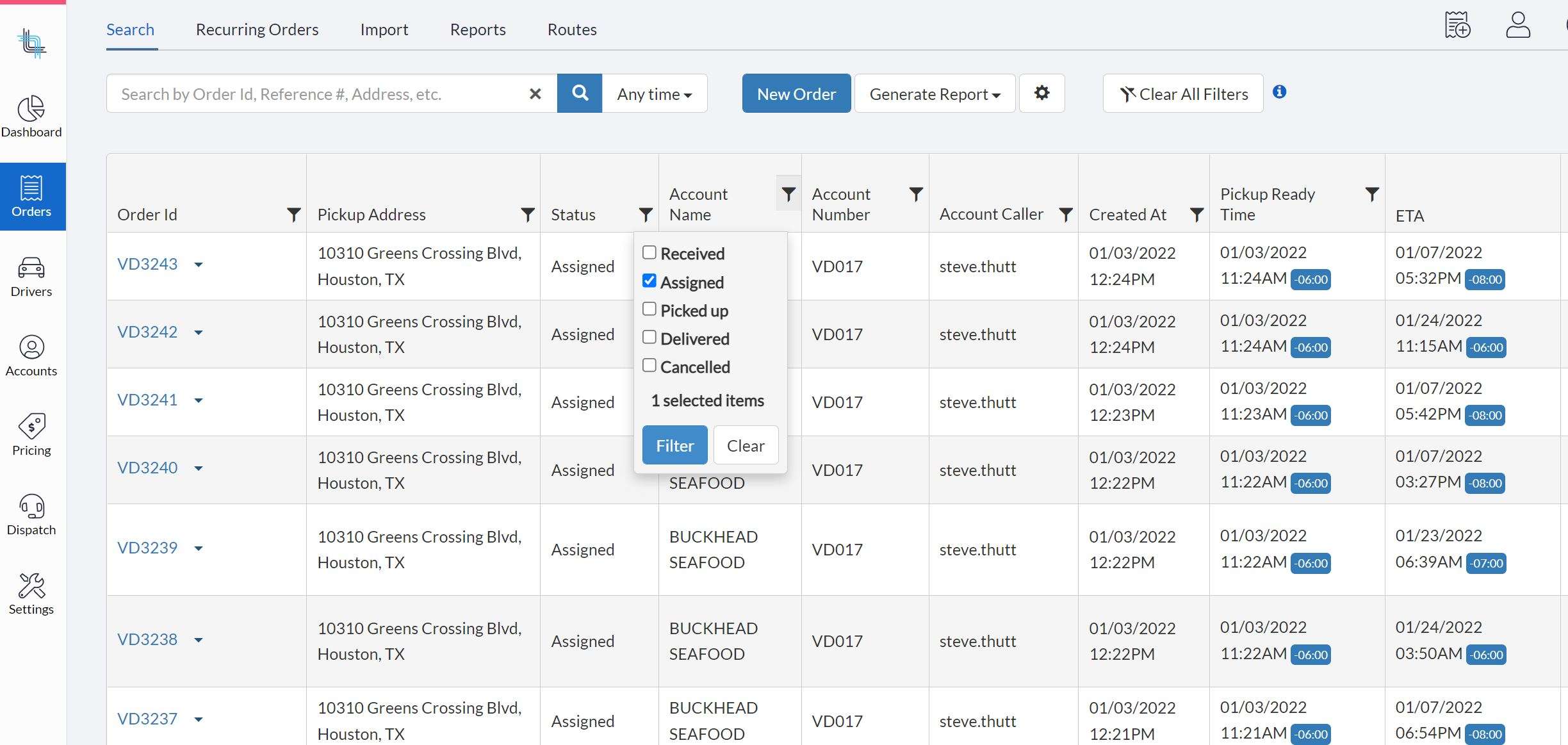 Dispatch Science's search and filtering views end editable columns lets users quickly zero on on key information, in real-time. Also available on the Customer Web Portal.
Real-time driver tracking and management
You and your customers have at least one thing in common: You both want to know where your delivery drivers and vehicles are and if they are following instructions!
For you, it's about driver-tracking, whereas, for customers, it's about when and how they'll receive their delivery. Delivery management software satisfies both needs by providing live driver locations with accurate ETAs.
In addition to showing the driver's current location, a complete audit trail is kept by Dispatch Science, so you can always go back in time to verify what happened in the field.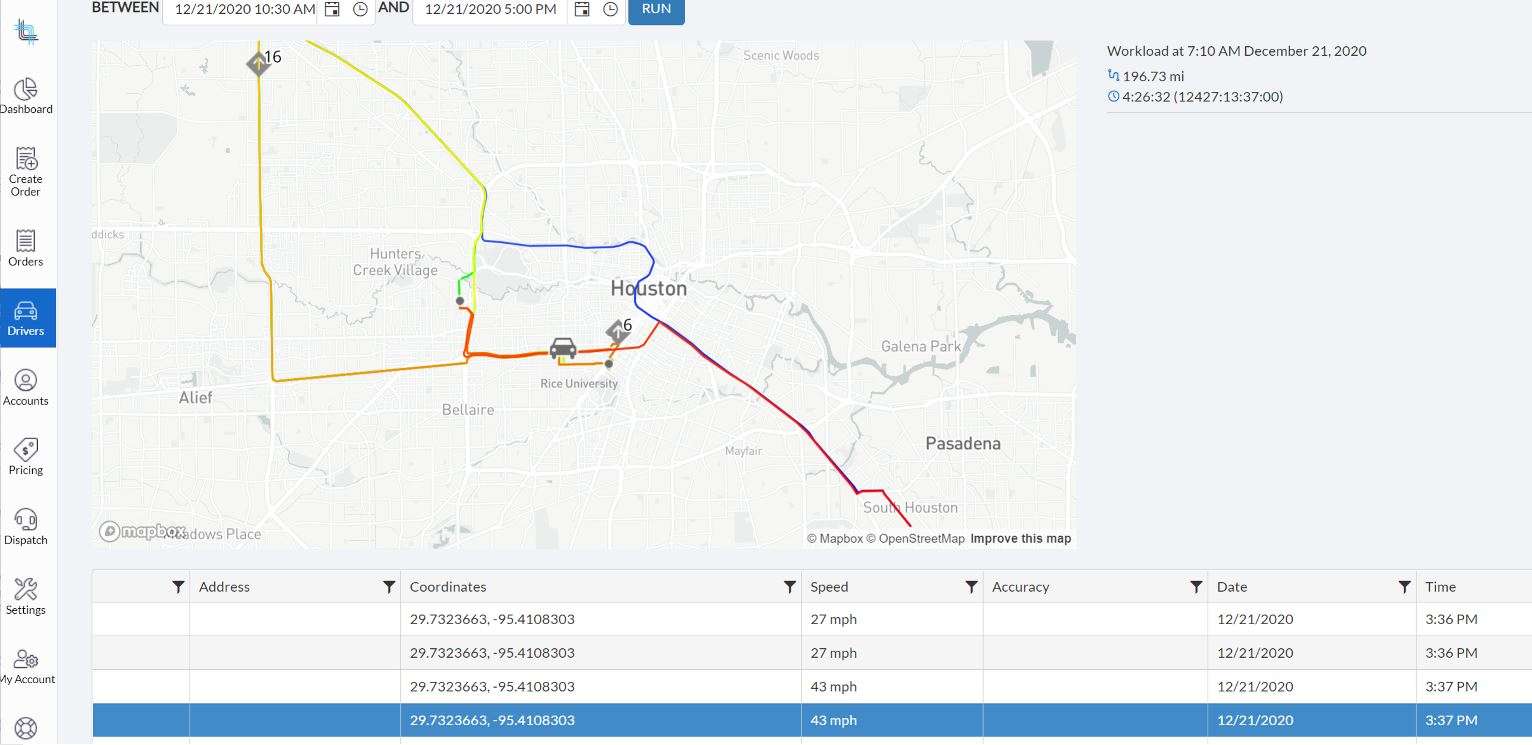 Driver Audit trail screenshot showing past position and speed.
Best-of-breed delivery management software goes one step further and provides powerful driver management capabilities such as:
Triggers that determine what kind of actions specific categories of drivers can or cannot perform

Impose mandatory or optional step-by-step pick-up and delivery action sequences

Permit and certificate compliance management with alerts when they are about to expire and lockout if they are past due
Predictive ETAs
As we mentioned earlier, delivery management software has the power to show precisely where deliveries are and when to expect them.
With Dispatch Science, you can send your customers automatic status updates at multiple points of the delivery process, as well as delivery ETAs, through branded email and text messages.
You also have the option to allow your customers to communicate with drivers, dispatchers, and call centers, empowering your team to problem-solve in real-time.
What's more, you can fully customize the layout of your email or text notification and include any information you want:
Predictive ETA email messages.
Communications
Everybody has their preferred chat application installed on their smartphone. Ensure the delivery management software you choose has an internal communication feature, so everyone uses the same tool.
With Dispatch Science, your entire team can communicate inside a private, secure, designated chat platform.
Dispatch Science features an internal chat window to ensure communications are fast & fluid
A powerful dispatch app for drivers
A sound delivery management system needs to be paired with a first-rate driver app to work well.
The driver app needs to be easy to learn and use, provide optimized stop-by-stop locations aided by a map view, and clear delivery instruction. It must support extra functions like in-app chat, photo and signature capture, and barcode scanning. It should also include geofencing to prevent drivers from delivering at the wrong locations.
The best driver apps will also allow drivers to put an order on hold, create new orders on the spot, add personal notes, collect tips and COD, transfer order to other drivers if their vehicle breaks down, and capture optional extra fees when appropriate.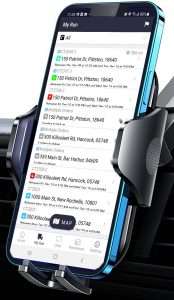 The Dispatch Science Driver App
Analytics and reporting
A sound delivery management system will give you metrics you can use to continuously improve your operations and ensure they're as efficient as possible.
Most delivery optimization software has built-in reporting capabilities, so you can identify which areas need improvement to lower costs and increase profits.
With Dispatch Science, managers can view KPIs and segment the data by team, driver, day, week, and hour of the day, all in real-time. This level of insight makes it easier to identify costly bottlenecks in the delivery process.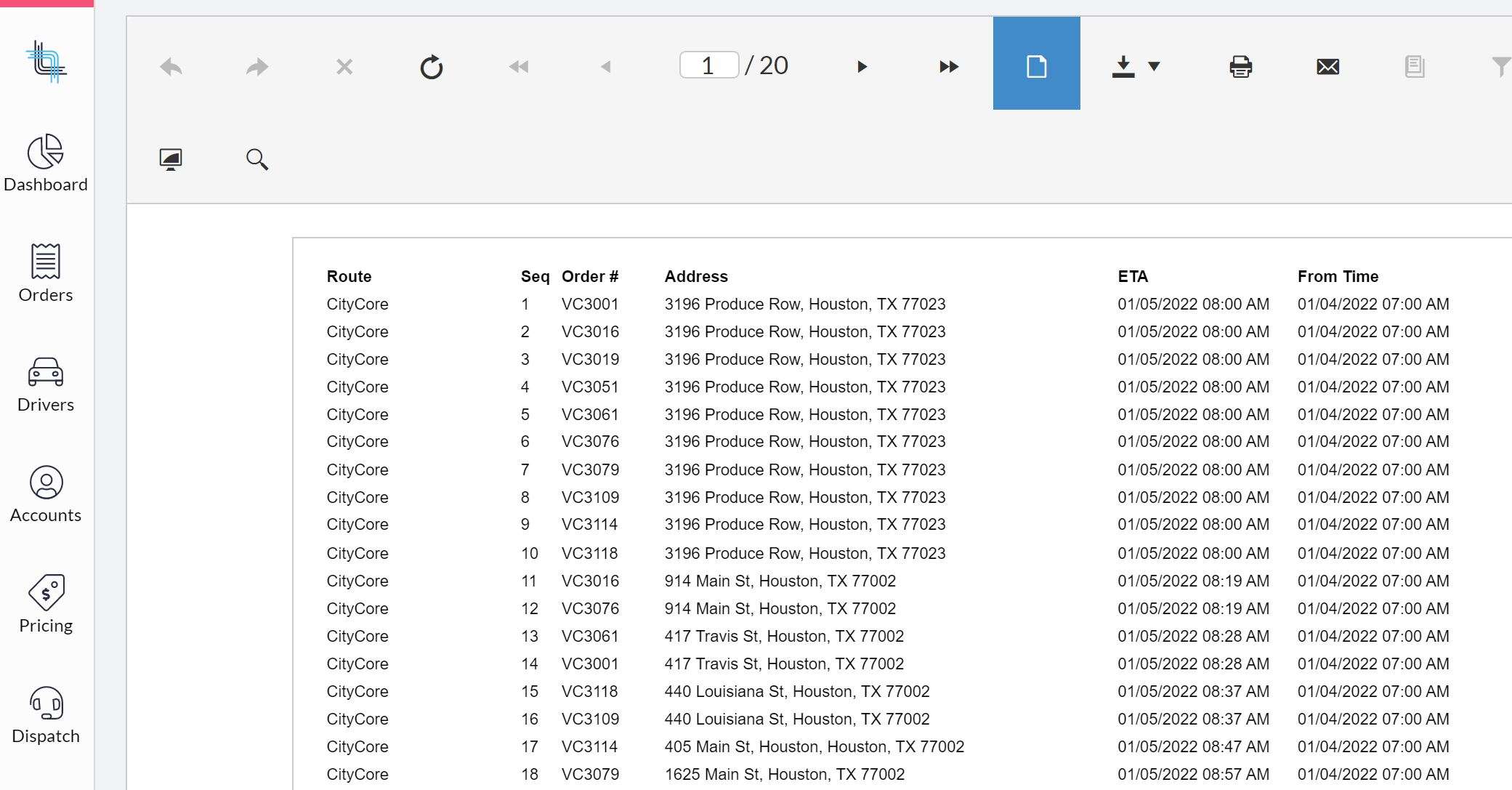 All sorts of reports and analytics are at your fingertips to assist your decision making.
Delivery Management Pitfalls to avoid
If you are investigating options for a Delivery Management solution, you must be scratching your head by now. It seems like every competing software vendor claims to have the capabilities described above. So let's take a step further to uncover seven hidden pitfalls that distinguish the best from the rest.
1. Insufficient configuration flexibility
One of the challenges of delivery management software is balancing convenience against flexibility.
Convenience means that the software is more like a cookie-cutter toolkit: Delivery companies can be up and running in a matter of a few hours or, at most, a couple of days of configuration, but have a limited set of options to customize their software to meet their specific business needs. Anything out of the ordinary could require costly custom software development.
Flexibility means that the software is more like an agnostic delivery management platform. Implementing an ideal solution will involve more upfront work to match business requirements. Still, the rich configuration capabilities of the software then allow them to build a solution that exactly fits their needs and will enable them to scale and add new capabilities over time quickly.
Be cautious of software with free trials and simplistic implementation capabilities. You risk rapidly reaching roadblocks in your implementation, and you could end up paying much more in custom development than you initially anticipated.
2. Ineffective order management
A surprising number of route management software vendors assume that order entry happens somewhere else on another system, like an eCommerce platform. Order-Entry is not one of their core functions.
Suppose you're a delivery company that wants the flexibility to fully leverage your fleet's capacity. In that case, you will want to have options to expand your services to many areas, such as on-demand deliveries, for instance. API, Secure FTP, or file import order acceptance only covers some situations. You could end up with severe productivity issues if your software makes it difficult to create or edit complex order information on the fly.
Make sure your delivery management platform equips your call center with a finely tuned order management system so that reps can do their order entry quickly, efficiently, and without error.
Demand features like those already offered by Dispatch Science:
Contact address books for pre-filled address info

Type-ahead Google-type address completion

Custom geo-coded addresses with Lat-long for uncoded locations

Pre-filled order templates for one-click order creation

One-click duplicate, return, continuation, and other types of orders

Customizable parcel types for rapid parcel selection

Easy to modify pre-set default vehicle types, service levels, and driver delivery instructions according to customer type

Easy to customize pickup and delivery windows
3. Inflexible delivery processes
Most, if not all, delivery management software will propose a limited set of delivery options that can be checked or unchecked to appear on the driver app. Examples of these are Proofs Of Delivery like barcode scans, signatures, or ID verification. These might cover half of all situations.
In reality, business customers will almost always want special treatment for their deliveries. Here are some real-life examples of custom delivery requirements that our carriers have met: Double signature on delivery, temperature measurement of parcels, replace empty containers with filled ones at delivery, only bring back filled blue boxes, not red ones. Pick up and count empty pallets.
You get the idea. Signatures, photos, scans? Hey, that's just scratching the surface!
If you have ever encountered a unique delivery process, it's more than likely that Dispatch Science can resolve it without custom programming.
Make sure your next delivery management software has the flexibility to quickly and easily set up custom enforceable step-by-step driver instructions. It will allow you to anchor your current B2B customer base better and win new business thanks to software that puts the rapid creation of custom workflows in your hands.
4. Weak Pricing engine
Did you know that carriers often generate up to 40% of their revenues from extra fees or accessorial charges? There are two reasons why your delivery management software needs to support every imaginable pricing model: First, to ensure that you capture every potential cost element of each delivery, so you don't end up in the red. Second, to give you the flexibility to quickly prepare and implement pricing quotes that meet the requirements of any potential new customer.
You don't know what kind of business opportunity may come across your desk. Make sure that your delivery management software can be like Dispatch Science so you can quickly and easily capture any cost component and translate it into pricing.
5. Limited dispatching flexibility
Automated dispatch optimization combined with smartphone geolocation on driver apps is arguably the most transformative technology in delivery management today. It dramatically increases on-time performance, reduces driver mileage and carbon footprint, and practically eliminates errors.
But automation is not a panacea. In the real world, a million things can go wrong: trucks will break down, addresses will contain mistakes, unannounced road closures will happen, drivers will miss work, and parcels will have missing labels.
Also, not all customers are made alike, and there are all sorts of dispatching that need to be managed: Some customers demand scheduled deliveries with dedicated drivers. Others require routes that are planned days or weeks, even months in advance. Some may want orders to go through a transit warehouse before final delivery. Some may require more complex returns management and OS&D processes.
You want dispatch software that is flexible enough to make it easy for dispatchers to quickly uncover issues and fix them BEFORE it's too late. Even though you may not yet have customers for all possible scenarios today, you don't want to turn down any opportunity to optimize your fleet capacity and increase your profits. It would be best if you had sophisticated dispatch software that does it all, like Dispatch Science.
6. Customer visibility limited to single orders
One of the best ways to get your business customer wholly tied to your hip is to open your operations to him for HIS portion of your business. He will love you if you can provide him with a web portal that shows the status of every order he has in your system in detail and in real-time. And he will come to depend on you if you also provide detailed analytics and self-serve reports tied to his business.
That's what the Dispatch Science customer portal can do for you and your customer:
The Dispatch Science Customer Portal
7. Hidden pricing surprises
If you look at the delivery management software landscape, you will see two main types of vendors, those that display only parts of their pricing and those that don't because they target only large enterprise clients. But you will only find one that shows it all: Dispatch Science. It's essential to be cautious when a vendor talks about prices "starting at" or when the price is based on "task-like" units. Once you're fully operational, measuring your actual costs could uncover unpleasant surprises.
Make sure that your discussions with any delivery management software vendor thoroughly cover any cost component so that you can fully understand the actual value of what you're buying.
Upgrade Your Delivery Management Software Today
With the right delivery management software system in place, your teams will be more productive, and customer satisfaction will increase. It will also give you the flexibility you need to expand and grow your business into other areas with confidence.
Want to learn how Dispatch Science can help? Get in touch with our sales team and request a demo today!