Spring 2020 Special Software Update: Introducing WORKFLOW CONFIGURATOR
Leap Ahead of your Competitors with our New Workflow Configurator!
Customers who have seen our new Workflow Configurator are unanimous: this is a game changer. The ability to offer custom workflows will make you stand apart. Why? Because no matter how complex the requirement, you'll be able to quickly build a sturdy and enforceable step-by-step process to meet even the most complex customer needs.
New! Create multi-step workflows in the delivery process
New! Create multi-step workflows at the item level
New! Easily reorder workflow steps
New! Create custom workflow with your own free-text, constrained values or drop down fields
Enhanced! Driver app and driver behavior are now controlled to a level never seen before.
---
Welcome to this special edition of our recurring software updates. Following extensive user analysis and feedback, we've excited to announce our new Workflow Configurator! We are convinced that you will discover new ways to delight customers and build new revenue streams for your business. Moreover, this tool will help you quickly adapt to today's rapidly evolving business environment.
Enjoy responsibly 🙂
The Dispatch Science Team
---
"It's how you get work done. It's a series of tasks you need to complete to reach some repeatable business goal. In the delivery business, it's the series of steps you take from pick-up to final delivery of an item."
---
DRAMATICALLY ENHANCE YOUR PRODUCT OFFERING WITH CUSTOM DELIVERY WORKFLOWS 
Complex customer requirements are your opportunity to get top-dollars for your delivery services, while offering precisely the type of customized logistics that will leave your competitors in the dust.

Create as many tasks as your customer requires at the point of delivery. For greater control, tasks can be mandatory or optional, and you can choose what's displayed to your drivers.
---
DIG DEEP INTO YOUR DELIVERY PROCESS AND OFFER CUSTOM WORKFLOWS AT THE PIECE LEVEL
Tweak your workflow at the individual parcel level to provide even more value and control for your customers.
Allow drivers to perform multiple actions, such as photo capture, inspections, completing questionnaires or performing their assigned custom tasks – for each piece!
---
EASILY REORDER YOUR WORKFLOW 
One click power! It's now super easy to change the order of your workflow.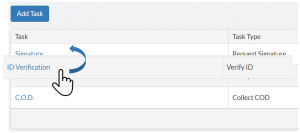 ---
CREATE CUSTOM WORKFLOWS FOR YOUR HIGHLY SPECIALIZED CLIENTS 
Standard delivery workflows usually include signature or photo capture, bar code scanning or ID verification. But many customers have unique needs that cannot be captured by most delivery management systems. 
Now you can create fully customized delivery workflows with your own choice of drop-down instructions, specific text values or free-type entries. There's practically no limit to the number or complexity of client instructions that you can now enable in a matter of minutes! Deciding how much more to charge will be your next challenge!
---
TRANSFORM YOUR FLEET PERSONNEL FROM DRIVERS OF GOODS TO DRIVERS OF VALUE!
Now that you have this new workflow power at your fingertips, it's time to leverage your drivers and generate new value!  

Thanks to the power of the Workflow Configurator, your drivers will receive precise step-by-step instructions during the delivery process. Each step will only start after the previous one and it's all captured by the Driver App. Once the driver has completed the mandatory and optional steps, the system will authorize the delivery.
---
THE DISPATCH SCIENCE WORKFLOW CONFIGURATOR –
A NEW WAY TO DRAMATICALLY IMPROVE YOUR REVENUE AND PROFITS
Workflow software is a key tool to implement business process automation. That's why software vendors usually charge a fortune for it. When you choose the Dispatch Science Growth Edition as your platform to manage your deliveries, our Workflow Configurator is included AT NO EXTRA COST! This is an amazing value to help you stand-out and leap-ahead of your competitors.
---
SEE IT ALL IN ACTION
Order Entry and Client Management

are Receiving a Facelift!
New!

 

Load/unload time management

Enhanced!

 

Easy-to-customize information display

New!

 

Contact archival tool

New!

 

One-click change user after order is released

New!

 

Apply GPS coordinates on an order where no address exists
Plus:
New!

Driver profile templates
---
Welcome to our second software news flash! We're excited to share some exciting new features and functionality for Dispatch Science. This release focuses on enhancing the client management and order entry processes.
The Dispatch Science Team
---
NEW!

MAXIMIZE DELIVERY ACCURACY AND TAKE GREATER CONTROL OF YOUR DELIVERY SCHEDULE
Set your own load and unload times on orders, contact addresses or even recurring order templates.
---
ENHANCED!

GAIN TOTAL CONTROL OF YOUR ORDER DESK
Stop being overwhelmed with non relevant information and boost your productivity with powerful click & drag table customizations that you can use to display just the information you need.
---
NEW!

BOOST PRODUCTIVITY WITH ONE-CLICK GLOBAL CHANGES TO ORDERS
Launch one-click account changes on open orders! You can now change the user account on an existing order at any time before the actual invoice is issued. Pricing, parcel type, extra fees, and other characteristics of the order are automatically updated to reflect the change in client.
---
NEW!

KEEP YOUR CLIENT LIST CURRENT BY ARCHIVING YOUR OLDER CONTACTS WITH NEW ARCHIVE/UNARCHIVE CAPABILITY
Account callers and addressed users can now be archived/unarchived. Archived users will no longer be able to login to Dispatch Science and account managers will only see active users in the list when creating or changing the account on an order.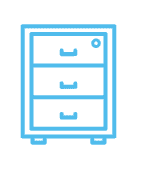 ---
NEW!

USE GEOCODING TO PROVIDE SUPER-PRECISE PICK-UP AND DELIVERY LOCATIONS TO YOUR DRIVERS
When an address is not yet on the maps or perhaps the delivery location isn't quite the civic address, easily tweak the pick-up or delivery location. Simply drop a pin on the map.
---
NEW!

IMPROVE RECORD ACCURACY BY ALLOWING YOUR DRIVERS TO UPDATE THEIR PERSONAL INFORMATION
New driver information profiles are now available and can be set to self-serve by your drivers to keep their critical information up-to-date.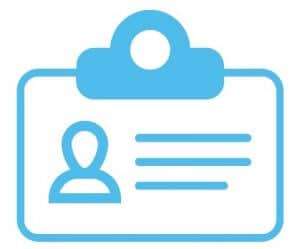 Enhanced barcode capabilities to support any barcode format

 

COMING SOON

An exciting new dispatch board optimized for traditional dispatching

Our new workflow Toolset will revolutionize the way you work and turbo charge your team's productivity.