June 2020 Software Update
Launching a New
Dispatch Board & Support for Drivers to Complete their Work Offline
New! Grid-based dispatch board
New! Offline location, pick-up, and delivery confirmation
Enhanced! Routed delivery capabilities
Plus:
New!

Fixed commissions for drivers
---
Welcome to the June 2020 edition of our recurring software updates. Our newest release is for drivers and dispatchers who will enjoy major productivity enhancements. We are giving drivers more autonomy thanks to new offline capabilities, and dispatchers are receiving our new Grid-based dispatch board. Those who have started using it are already raving about how much faster they're getting their job done!
The Dispatch Science Team
---
DRAMATICALLY INCREASE DISPATCHING SPEED AND ACCURACY WITH THE NEW GRID-BASED DISPATCH BOARD 
Analytical personalities and spreadsheet aficionados will love the Grid-based dispatch board. This board offers sophisticated sorting and filtering capabilities, plus the visual cues associated with each order and driver. The filtering and sorting capabilities make it particularly productive in the hands of experienced dispatchers who know their territory and their fleet. With this tool, dragging & dropping orders to match them with drivers is a breeze!
The Grid-based dispatch board:

How does it work?
It's super simple. The interface is split in two: orders are listed on the left while drivers are on the right. Just multi-select orders, then Drag & Drop them on available drivers. Continue doing this until all unassigned orders have been dispatched to available drivers.
Dispatchers can create as many boards as they want, each with its own set of easy to configure filters, and quickly navigate between them. Actions taken on one board are reflected in real-time on all others, including the Map-based dispatch board. 
The screens are loaded with practical visual cues to instantly identify the characteristics of each order and driver while hovering over any order shows a contextual menu with further details:
Imagine how productive your dispatchers will be when they combine the intuitive capabilities of our original Map-based dispatch board with the data-centric approach of our new board!
---
INCREASE THE RANGE AND AUTONOMY OF YOUR DRIVERS WITH AN APP THAT WORKS EVEN WHEN THEY ARE OFFLINE
In today's connected world, using mobile devices to perform mobile work makes perfect sense. We all know however that there are still blind spots in the grid. 
Now you can allow drivers to confirm their location, pick-ups, and deliveries on the Driver App even when offline!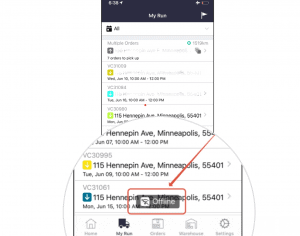 ---
ROUTED DELIVERIES ARE GETTING AN UPGRADE
Last-mile distribution means that your team is constantly determining optimal routes, managing weight and volume constraints, and balancing driver workloads. These deliveries typically require bulk pickups at some facility, that must be then verified and scanned for accuracy, broken-down and loaded-out onto separate routes for delivery to their final destinations. Meanwhile, you need to capture barcode scans in real-time and share parcel tracking info.
Dispatch Science easily handles this process and we're proud to announce the following enhancements to make it all even easier: 
It's now easy to switch orders from routed to on-demand, and vice versa:

To move routes, just select one then Drag & Drop it to the right or left: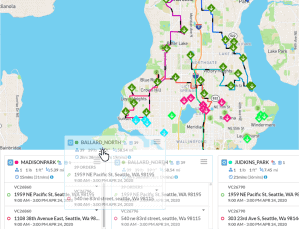 The routed order contextual menu has also been enhanced. For instance, illustrated below: 1st stop is pickup and the selected order is the 32nd delivery of 43: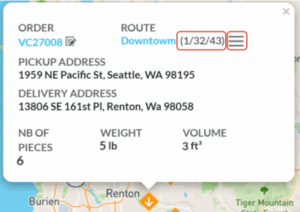 And we now offer a more intuitive way to move individual orders from one route to another.
Details of changes are available in the application release notes.
---
OTHER NEW CAPABILITIES
AVAILABLE NOW
You now can override variable commissions for drivers and apply fixed commissions on individual orders or on order templates

Customers can now view attachments directly on their client Web portal
COMING SOON
Soon to be released: a new mobile delivery app!
---
SEE IT ALL IN ACTION