5 Crucial Benefits of Modernizing your Delivery Management Software
As coronavirus cases around the world continue to rise, so do deliveries to private residences, as witnessed by UPS's Q2,2020 results which saw a whopping 65% increase in residential deliveries. As a result, private courier companies urgently need to consider updating their delivery management software.  
To rise to the needs of this on-demand culture, more companies are adopting SaaS-based pick-up and delivery management software that can streamline and automate most of the delivery process. These platforms can also enhance the way delivery companies oversee their operations by equipping them with real-time access to customers, order bookings, and driver information. 
Because of these enhanced capabilities, enterprises can forge stronger relationships with customers through increased satisfaction thanks to enhanced tracking visibility and speed of delivery. This is but one of the advantages delivery companies can get when they adopt a modern delivery management system. We'll discuss more perks in the list below. 
1. A modern delivery management software platform can automate much of your delivery operations 
When you start relying on a smart delivery management system, you are guaranteed enhanced efficiency from the moment you lay out a quote to the time you're optimizing routes and charging your customer. It lets you automate every step in your workflow, including routing strategies, dispatching and transactions. 
Running a local delivery business is no joke, but with a parcel delivery management platform, you can cut down on non-productive aspects of your delivery business and concentrate on fostering business growth. 
2. Delivery management tools to optimize the last-mile 
Thanks to the rise of the on-demand economy and to new business paradigms, customer expectations continue to be on the rise. As such, it is vital to have pick-up and delivery management software that supports route optimization. 
Route optimization is crucial when it comes to supplying last minute delivery services. It is the key to meeting consumer needs, since it guarantees that packages are delivered on time, and in the most efficient way. While most delivery management systems can show the location of each driver alongside the number of deliveries they need to accomplish, not all have the ability to automatically optimize the delivery sequences for drivers.
Being able to do this with your delivery management tools ensures the selection of the most optimized routes to save both time and money. It also drives driver efficiency to its highest point. This reflects in customer satisfaction too, since orders are delivered efficiently, with minimal to no delay.
If you're seeking this capability, but also run other non-delivery related business processes, you might as well check out a list of business process management software for various options that can help your delivery company's operations and outcomes.
3. A modern delivery management platform can help you successfully optimize your pick-up and delivery schedules
Propelled by technological developments, the delivery industry has dramatically transformed, so it's no surprise that most delivery businesses count on delivery management tools to optimize their pick-up and delivery schedules. 
Modern parcel delivery management platforms can also provide delivery companies 100% real-time visibility when it comes to their workflows, which allows them to harness their assets and accomplish their enterprise objectives, including establishing in-control delivery structures. 
Successful scheduling is essential for any delivery enterprise that wishes to thrive. Since the industry relies on time and efficiency, the acquisition of a delivery management system that goes one step further and provides 100% real-time visibility at every step can be extremely helpful. 
4. A modern delivery management system is cloud-based 
For very little cost and effort to set up, delivery businesses can increase productivity levels and satisfy customers with modern delivery management tools. 
The best parcel delivery management software solutions available on the market are cloud-based, which means that all critical data is stored in a central hub and automated functions that assist your workflows can be set-up to be triggered anytime and anywhere, even when you're on lunch break. 
The best delivery management systems are packed with route optimization functions, real-time notifications and robust algorithms that enable your dispatchers to easily meet service-level agreements and oversee exceptions. 
Ultimately, better technology makes any delivery company more profitable at very little cost and with very big rewards. 
5. A modern delivery platform can supply you with insightful data, reporting and analytics
Research reports a steady growth in the delivery industry, with market size reaching $113.5 billion worth of revenue in 2020. As the competition becomes tougher, there is an increasing need for rich data to gain a competitive edge. 
If your business is equipped with a modern pick-up and delivery management system, you automatically gain foresight and a complete overview of your business through predictive analytics and real-time reporting. With this information, you can easily keep your customers and workforce up to speed using accurate data. 
With such a delivery management system, you can set up automated alerts to dispatchers regarding orders that are delayed, awry or at risk. You can also remove any guesswork to drivers, dispatchers and clients by supplying them with customizable notifications on the status of their orders. This will also foster a strong sense of trust between all the people involved in the delivery process. 
Your pick-up and delivery management software also allows you to conveniently check all your drivers' assignments and earnings, so that you can delegate tasks effectively and ensure that none of them are overworked or underpaid. 
Get improved performance and happier customers 
Once a courier business takes full control of its delivery operations, objectives become easy to achieve. Managers can delegate tasks and assets at the right place and time, thereby ensuring maximum efficiency for their services. 
Delivery management tools such as Dispatch Science supply end-to-end visibility to delivery companies, granting businesses the power to monitor and quickly resolve probable delays while boosting productivity across all aspects of their operations. 
---
SEE IT ALL IN ACTION
Running a delivery business is a fulfilling job. You are often doing vital work to help keep businesses running or families safe and comfortable. The work also comes with exciting logistics challenges and some great customer stories.
If you are in the delivery business, chances are you have seen more than a few hectic days. Those are the days when it becomes difficult to juggle drivers, guide dispatchers on necessary delivery details, and answer client calls, often all at the same time. This chaotic day-to-day firefight can be exciting, but it also keeps you away from thinking strategically about your business.
By following the next 4 fundamental guidelines, you will run a better organized and more profitable business.  
1. Ensure you're Equipped with a Robust System to Streamline Delivery Operations
Your work can be extremely overwhelming, and your business could suffer if the right systems aren't in place. Lines of communication can get crossed, and if you are spending too much time working on the wrong things, you could miss out on opportunities to grow. While there is no one-size-fits-all approach to managing a delivery business, you can flourish by applying the right operational strategies.
Coordinating customer requests simultaneously as overseeing driver dispatching is where many delivery company managers hit a roadblock in business growth.

It would be best to implement delivery automation software that lets you track deliveries, view driver schedules, and dispatch new jobs to drivers all in one place.
By doing so, you will eliminate the need to play 'phone tag' across the organization, which will keep operations running smoothly and reduce manual errors. What's more, if the software can automate your accounting chores and facilitate customer payments, you can avoid hours of chasing down past-due invoices and create better cash flow.
Picking the Right Software
We encourage you to select software with web and mobile apps where customers can enter orders themselves. You will reduce or eliminate call center errors, reduce staffing, and accelerate the entire delivery management process. 
| | |
| --- | --- |
| Having a central software hub for keeping everything organized also creates the operational flexibility you need to take on new work. You ensure nobody has to turn down new jobs because of delayed responses or scheduling issues. Call center personnel, dispatchers, and drivers are more efficient and have more time to take on new tasks. | |
To do this right, you need to think about the impacts of your delivery issues such as penalties or write-offs for missed or late deliveries and choose software that optimizes delivery schedules. Using optimized auto-dispatch software does not hurt your exiting delivery routes. Better, it frees up time for your team to take on more emergency deliveries. The right software enables you to provide accurate information and a full view of your driver workloads.
2. Getting your Pricing Right
As a delivery business owner, you need to ensure your pricing reflects the service level for which you are committing and the going market rate against which you are competing. Knowing the competition's pricing and service levels is essential as is your cost base so that you can accurately set and maintain profitability goals.
Setting prices higher can be advantageous if you can show your unique benefits and advantages to customers. Most people want attentive drivers and on-time deliveries.

The goal is to be able to charge a premium based on differentiating factors that justify the higher rates without turning them away.
Additionally, you must make sure all expenses are covered. When pricing services, you need to build a file of overhead costs and determine the percentage of profit you want to keep.
Varied Pricing Per Customer
Different delivery jobs require unique features, so your prices should reflect that. For instance, you might charge less for eCommerce B2C clients than B2B customers based on the ability to collect a tip through the driver mobile application. These minor adjustments will ensure that you and your drivers make the profit that the work deserves, and customers are satisfied by the pricing arrangement.
Feedback is also critical for repeat business. The ability to survey your customers regularly, and knowing what is making you lose customers, be it because of pricing or quality of service, is essential.

Pricing shouldn't be static, and the software you use should make it easy to fine-tune. It would help if you made regular adjustments where it makes sense.
3. Ensuring Exceptional Customer Service
It's essential to set up systems and expectations for drivers to follow right out of the gate.
With business growth also comes customer growth, and when drivers physically enter into homes or offices, services must be of the highest quality. It's essential to set up systems and expectations for your drivers to follow right out of the gate.
Helping drivers do their best work from an operational and customer service perspective by establishing easy to deploy step-by-step guidelines for customer and company expectations is the key

. Your software should make it easy for you to enforce these workflow steps.
Open Lines of Communication
Besides ensuring that your drivers keep a clean vehicle and respect their dress code,

maintaining open communication lines with customers should be a top priority for your business.

This can be as simple as answering the phone quickly and dispatching a driver as soon as possible.
Customers often come from positions of stress due to the urgency of the required delivery, so having a quick response time is a crucial differentiator between good and bad service. The right solution for this is to evolve into automating vital communications that provide event-triggered tracking messages. How you interact with your customers is a crucial indicator of how your company operates, so you need to ensure that you have the best customer service practices.
4. Never Take Valuable Employees for Granted
While it sounds simple, your delivery business needs reliable employees to operate and scale so that your competition does not swoop in and scoop up drivers or dispatchers who don't feel valued. As your business ramps up, it's easy to forget that repeatedly dispatching drivers to deliveries that are only marginally profitable to them, or letting those who complain the loudest get the best runs, is counter-productive in the longer term.
| | |
| --- | --- |
| | If drivers are doing their job but don't feel like they are being treated fairly, they are not going to be happy. Your drivers will appreciate knowing that their assignments are a function of your system's use of math, logic, and time sensitivity to execute accurate performance-based delivery stop sequences rather than human bias. |
Employee Retention and Loyalty
An essential element in building a top-performing team is employee retention and loyalty. It would help if you focused on creating a great work atmosphere and keeping a pulse on what's happening with the team. Reporting and analytics can give you the business data, but don't forget to spend time with your people and ask them how they are doing once in a while.

Appreciation goes a long way.
Incorporating Software Solutions and Automating Tasks
Developing a highly-successful delivery company is easier if you know what systems and processes to implement to manage operations better.
It's easier to grow your business when you adopt strategies that incorporate software solutions like Dispatch Science to streamline operations, automate dispatching and accounting tasks, enable drivers, and improve customer communications.
You should set-up up a robust delivery management system, know your market, keep customer service a top priority, and not let great team members slip away. Together, these strategies will work to help maximize the growth of your delivery business.
SEE DISPATCH SCIENCE IN ACTION
Launching a New
Dispatch Board & Support for Drivers to Complete their Work Offline
New! Grid-based dispatch board
New! Offline location, pick-up, and delivery confirmation
Enhanced! Routed delivery capabilities
Plus:
New!

Fixed commissions for drivers
---
Welcome to the June 2020 edition of our recurring software updates. Our newest release is for drivers and dispatchers who will enjoy major productivity enhancements. We are giving drivers more autonomy thanks to new offline capabilities, and dispatchers are receiving our new Grid-based dispatch board. Those who have started using it are already raving about how much faster they're getting their job done!
The Dispatch Science Team
---
DRAMATICALLY INCREASE DISPATCHING SPEED AND ACCURACY WITH THE NEW GRID-BASED DISPATCH BOARD 
Analytical personalities and spreadsheet aficionados will love the Grid-based dispatch board. This board offers sophisticated sorting and filtering capabilities, plus the visual cues associated with each order and driver. The filtering and sorting capabilities make it particularly productive in the hands of experienced dispatchers who know their territory and their fleet. With this tool, dragging & dropping orders to match them with drivers is a breeze!
The Grid-based dispatch board:

How does it work?
It's super simple. The interface is split in two: orders are listed on the left while drivers are on the right. Just multi-select orders, then Drag & Drop them on available drivers. Continue doing this until all unassigned orders have been dispatched to available drivers.
Dispatchers can create as many boards as they want, each with its own set of easy to configure filters, and quickly navigate between them. Actions taken on one board are reflected in real-time on all others, including the Map-based dispatch board. 
The screens are loaded with practical visual cues to instantly identify the characteristics of each order and driver while hovering over any order shows a contextual menu with further details:
Imagine how productive your dispatchers will be when they combine the intuitive capabilities of our original Map-based dispatch board with the data-centric approach of our new board!
---
INCREASE THE RANGE AND AUTONOMY OF YOUR DRIVERS WITH AN APP THAT WORKS EVEN WHEN THEY ARE OFFLINE
In today's connected world, using mobile devices to perform mobile work makes perfect sense. We all know however that there are still blind spots in the grid. 
Now you can allow drivers to confirm their location, pick-ups, and deliveries on the Driver App even when offline!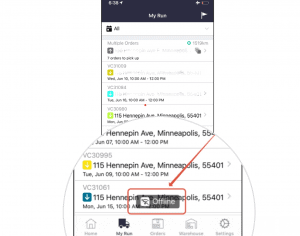 ---
ROUTED DELIVERIES ARE GETTING AN UPGRADE
Last-mile distribution means that your team is constantly determining optimal routes, managing weight and volume constraints, and balancing driver workloads. These deliveries typically require bulk pickups at some facility, that must be then verified and scanned for accuracy, broken-down and loaded-out onto separate routes for delivery to their final destinations. Meanwhile, you need to capture barcode scans in real-time and share parcel tracking info.
Dispatch Science easily handles this process and we're proud to announce the following enhancements to make it all even easier: 
It's now easy to switch orders from routed to on-demand, and vice versa:

To move routes, just select one then Drag & Drop it to the right or left: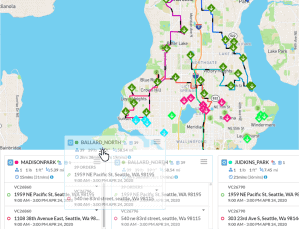 The routed order contextual menu has also been enhanced. For instance, illustrated below: 1st stop is pickup and the selected order is the 32nd delivery of 43: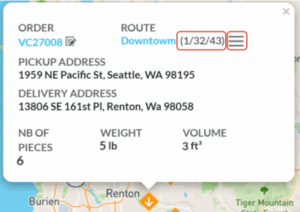 And we now offer a more intuitive way to move individual orders from one route to another.
Details of changes are available in the application release notes.
---
OTHER NEW CAPABILITIES
AVAILABLE NOW
You now can override variable commissions for drivers and apply fixed commissions on individual orders or on order templates

Customers can now view attachments directly on their client Web portal
COMING SOON
Soon to be released: a new mobile delivery app!
---
SEE IT ALL IN ACTION
Emily Bost recently wrote an interesting article about Dispatch Science helping out a local caterer at Houston Innovation Map. Here's an excerpt:
With the help of food service supplier Ben E. Keith Co. and cloud-based delivery management software company Dispatch Science, Wolfe & Wine Co. received the financial and technological sponsorship needed to provide single meals to his customers, and to donate meals to medical staff, including the entire Houston Methodist Emergency Room and ICU departments, and Houstonians in need.
"The dispatch software that we use is similar to what UPS, FedEx and Amazon use. When you order with us, you can track where your meal is in real time…That transparency separates us from [other meal prep companies]," Wolfe says.
Read the full article here.
Photo credit: Getty Images
In part 1 of this blog, we looked at the security aspects of delivery for modern medical carriers. In part 2, we look at key value-add services a modern delivery platform can provide to help you and your clients stand out.
1. Reduce customer service calls and increase productivity with down-to-the-minute Uber-precise delivery ETA's 
You are delivering life-saving medical goods, highly controlled narcotics or time-sensitive parcels. Consequently, recipients demand ultimate visibility on delivery times. For instance, nurses or doctors need precise ETA's to optimize their patient care procedures. It's now possible to share up-to-the-minute ETA's based on driver location and push status updates at any time via email or SMS. As a result, your clients will see a significant reduction in call center activity and increased staff productivity.
2. Piggyback Efficiencies and Savings
How do you leverage your existing infrastructure to onboard a new healthcare customer? Most often, special dedicated routes must be set-up at great cost to meet their unique needs. With a modern delivery platform, it is now possible to leap ahead of competitors by merging deliveries of these new clients into your existing on-demand and dedicated network! Healthcare clients enjoy custom service while still benefiting from the economies of scale of a multi-client carrier.

3. Extend Geographic Coverage
No medical carrier wants to lose customer just because a few deliveries lie outside their coverage area. That's why you have agreements in place with external agents to extend your delivery network. With a best-in-class driver mobile app you can add any agent driver who carries a smartphone to your network. Now you seamlessly provide the same 100% ETA visibility experience to customers who have deliveries that lie outside your standard coverage area.
4. Provide Tracking Numbers that Make Sense to the Client
Modern API's allow live links between internal and external databases.  Take customer care one step further by replacing your internal data with easier-to-find tracking numbers. For instance, in the case of pharma, use prescription numbers (Rx #'s). The information that's most convenient to your customer and their clients is displayed as a tracking number, making communications easier for everyone.
5. Support and Extend your Customer's Brand
Your customers are delivering sensitive goods, often in branded packages. Because trust is so important in Healthcare, providing a unified brand experience to patients or other recipients is vital to your customers. You can stand out from your competitors by offering a branded delivery tracking page!
Choose Dispatch Science to Grow your Medical Carrier Business
While internal savings and productivity enhancements to meet requirements of your healthcare customers are key criteria for selecting a new last mile delivery shipping system, make sure you also:
Provide the security levels clients need to meet increasingly strict regulatory requirements

Give them the 100% real time tracking they need to save lives

Offer new value that will delight them and keep them loyal for years to come
Dispatch Science can be your partner of choice in building a durable competitive advantage for your medical carrier business.
---
About the author: Jacques Lamontagne
Jacques is head of Product Marketing at Dispatch Science. He has over 15 years of experience in product marketing and management with various technology companies such as Open Text, Corel Corporation and Ubisoft. He also spend 9 years at Canada's largest parcel logistics vendor, providing innovative turnkey solutions to enterprise customers and in Marketing for their eBusiness division.
As a medical carrier, you know that delivery of sensitive medical and pharmacy products requires special attention. After all, citizen's health is at play and errors can cost lives. Competition towards winning this business is fierce because profits are high. Carriers who succeed at delighting these clients have the best chance of keeping them. Your challenge: figuring out how to meet the needs of medical and pharmacy clients without disrupting the rest of your business. This is where modern last mile logistics platforms come into play.
Stand out against your competitors with these
5 SECURITY capabilities:
---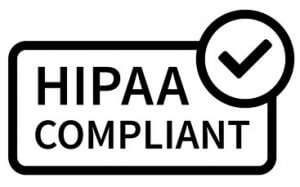 1. Meet or Exceed your Client's Data Protection Security Requirements
Any security breach in the world of healthcare is sure to make national headlines. Healthcare organizations must meet strict rules when dealing with patient information. In the US, the Health Insurance Portability and Accountability Act (HIPAA) makes these rules. In Canada it's the Personal Information Protection and Electronic Documents Act (PIPEDA).
Have you verified that the medical carrier services you provide meets the privacy rules of your customers? Has one of your client's Chief Information Security Officer (CISO) ever audited your business? To serve this industry segment, adopt a delivery platform designed to be compliant with data protection regulations.
2. Out-of-the-box Restricted Driver Selection and Information Sharing Controls 
Automated dispatching with route optimization offers well established benefits.  But best-in-class solutions also let you flag drivers with special skills and grants them exclusive delivery rights. These platforms can even restrict the type of information visible to the driver on his device, thus helping your client to fully meet its HIPAA or PEPIDA obligations.
3. Fully Automated White Glove Logistics Steps and Rules
All deliveries go through defined options, steps and rules – otherwise called workflows. In most cases, the carrier offers a small set of standard delivery workflows for all customers. Workflows for healthcare clients with special "White Glove" needs are more complex. For instance, a driver must replace prescriptions in a fridge, check expiry dates, remove expired products and fill a returns form before leaving the building. Manual instructions are error prone and costly to fix.
Check that your next delivery platform includes a workflow management module. With it, you will quickly become a healthcare carrier rockstar. You will transmit clear instructions to drivers, lower costs, reduce errors and increase customer satisfaction.

4. Auditable Recipient ID Verification
In an strong delivery workflow, drivers must verify recipient ID's and match them with those on their mobile devices. Drivers are also instructed to take a time stamped photo of the delivery paperwork prior to releasing the package. Unlike traditional delivery platforms where the reports are uploaded at end-of-day, a modern cloud-based platform instantly uploads them to your CRM. With this information on hand, customer service is instantly ready to respond.

5. Correct Address Radius Enforcement
Modern geo location data provided by your drivers' mobile devices is great for tracking. But is this enough? What's the impact delivering a controlled narcotic to the wrong address? Lives can be at stake! A best-in-class system goes one step further to prevent deliveries to the wrong address: Perimeter rules can be set up where drivers receive an alarm if they attempt to deliver outside an immediate address perimeter. Even better, delivery will be disallowed if attempted outside a wider perimeter. Thus, you provide your clients with strong assurances that their packages will be delivered to the right address.
Dispatch Science helps Healthcare Customers Meet their Security Needs
Dispatch Science's first clients were Healthcare carriers. So we built our platform from the ground-up to meet and exceed their requirements. And to further stand out against our competitors, we continue to make sure that our offering is always best-in-class.
In part 2, we will look at more value-add reasons to choose a modern delivery platform like Dispatch Science to delight and keep your healthcare customers.
---
About the author: Jacques Lamontagne
Jacques is head of Product Marketing at Dispatch Science. He has over 15 years of experience in product marketing and management with various technology companies such as Open Text, Corel Corporation and Ubisoft. He also spend 9 years at Canada's largest parcel logistics vendor, providing innovative turnkey solutions to enterprise customers and in Marketing for their eBusiness division.
B2B and B2C customers use a range of logistics-related apps in their daily lives, from food delivery to e-commerce from their favorite retailers. They have come to expect the same level of communication and visibility from their couriers. 
Carriers looking for a competitive advantage know that delivering parcels on time isn't enough any more. Today, your delivery management system can be an effective sales tool for winning and retaining business. Sophisticated dispatching systems like those from Dispatch Science incorporate the power of artificial intelligence, cloud computing and mapping services through mobile apps that instantly link drivers and dispatchers. These tools enable users to identify and manage the best driver, vehicle and route combinations to meet service level agreements, and manage exceptions on the go.
Ultimately, a dispatching tool should help you serve your customer's customers. Read more about turning your delivery management system into a sales tool in Courier Magazine.
Read the full article on page 10.